Earlier today (7th July 2020), Xiaomi announced the 8H Smart Mattress. It is a new smart product that is currently being crowdfunded and brings various smart features. The crowdfunding starts from 4,599 Yuan (roughly 654 US Dollars).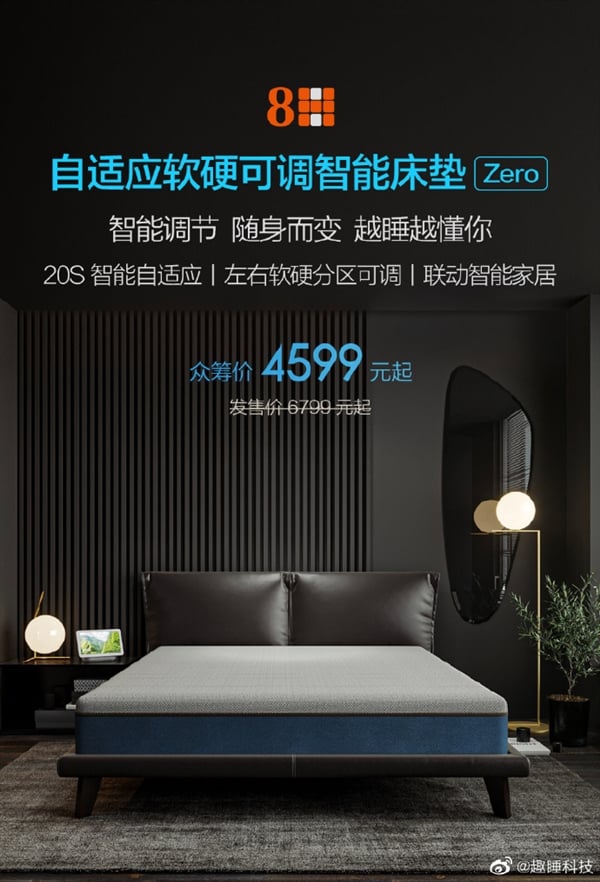 The newly unveiled 8H Smart Mattress can intelligently determine the softness or hardness and can adjust according to different postures and can also determine the partition between the left and right halves. Furthermore, it also features sleep aid mode, 5 algorithm support, XiaoAI smart voice assistant, and independent 6 zone airbag among other things.
Through its smart algorithm, the mattress' inbuilt AI can automatically sense and map the human body data and calculate the airbag pressure which is suitable for the body.
This process occurs in just 20 seconds and is subjective to different users. The 8H Smart Mattress is 26cm thick and covered with 3 cm thick Italian Schcott natural latex. The independent pocket springs combined with the independent 6 zone airbag helps provide support for the spine as well.
Additionally, the system in the mattress can adjust the air around one's shoulder, waist, arms, lumbar region, and more. This allows it to offer the most amount of comfort.
The 8H Smart Mattress from Xiaomi can also be used with the Mijia app and controlled wirelessly or touchless with the XiaoAI voice assistant. Through the app, users can also get a report regarding recent sleeping patterns.