Xiaomi's ecological chain company WalkingPad shot into the limelight a few years back with the launch of its foldable treadmill. In order to give ordinary users who need light exercise to reduce fat access to exercise equipment, Xiaomi Youpin has launched a small-footprint and low-noise fitness equipment. The machine is dubbed the URevo U1 foldable treadmill and it is priced at 1299 yuan (~$190).
In terms of appearance, the URevo U1 Foldable Treadmill adopts a self-developed and patented integrated frame body. After unpacking, it can be used without installation or connecting to a power source. The device also comes with a front screen which clearly displays movement data such as speed, calories, mileage, and time.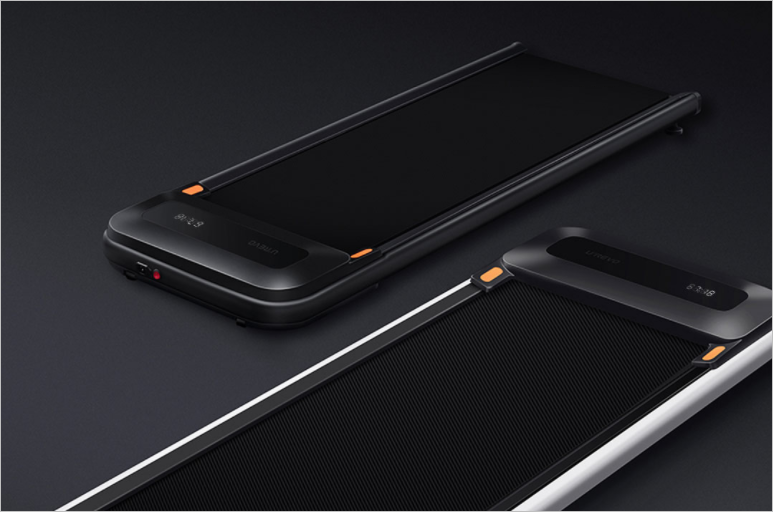 The treadmill has a decent area of 120x 42cm and you won't even have to bother about going over the edges as it is equipped with border warnings which alerts you whenever you exceed the safety range, even larger users can use it with confidence. At the same time, the running belt has its own correction function to prevent deviation.
The maximum speed of the treadmill can reach 6km per hour which can meet general jogging needs. It has a speed limit protection function. From the first use, the speed limit can be cancelled after the accumulated mileage reaches 3km.
In terms of noise reduction, the internal parts of the Urevo treadmill are highly integrated, which can effectively reduce resonance during exercise and greatly reduce noise. The maximum operating noise does not exceed 62 decibels, so there is no need to worry about noise disturbing neighbours.
The machine has a height of just 6.5cm making it easy to slide it under the sofa, thus saving storage space. At the same time, a roller is designed at the bottom of the walking machine, for easy mobility.
Further, the treadmill is equipped with a wireless handheld remote control. Thus, there is no need to look down when adjusting the working parameters. This is yet another feature which enhances the safety of users while trying to keep fit.