In November last year, Xiaomi launched the MIJIA Baseboard Electric Heater with a design that is similar to another model by Viomi, a Xiaomi ecological chain company. The electric heater later went on to clinch the 2020 German ed Dot Design award. A new version has now been launched dubbed MIJIA Baseboard Electric Heater 1S.
Going by the name, the new electric heater is likely just a slightly upgraded version. It carries a slightly higher 699 yuan ($103) price tag compared to the first-gen model which was sold for 599 yuan (~$88) price tag. However, the product is presently on pre-sale on Mi.com for 599 yuan (~$88). Let us take a look at the features.
The MIJIA Baseboard Electric Heater 1S bears the same design and specifications with the previous generation model. It also comes in black colour only which seems to be one of the differences with the first model which was available in white only.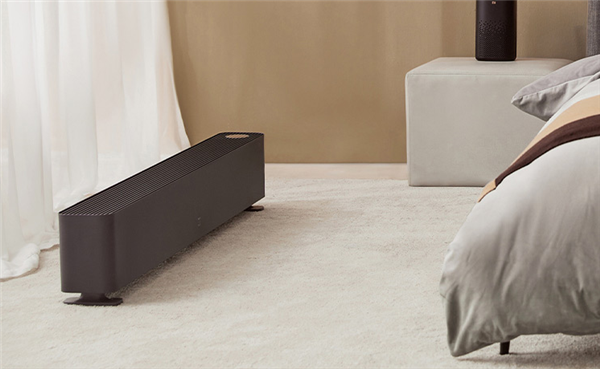 At the same time, the new product emphasizes the "automatic constant temperature function." The so-called automatic constant temperature means that on the basis of providing 900w/1300w/2200w three-speed power adjustment and adding an automatic transmission mode, the power output can be automatically adjusted according to the indoor temperature.
In terms of the build, the electric heater is made of aluminium. Power is automatically cut off when the body is tilted which is a safety feature. The gadget equally shuts down automatically when the temperature is too high, reducing the risk of flammability.
The electric heater adopts a windless convection heating system and is equipped with 127 dragon-scale radiating fins and double heating tubes. The heater can quickly heat up immediately after it is powered on. Heat circulates naturally through radiation and while doing so, dust won't be generated easily and it reduces the indoor air moisture as well.
In addition, the MIJIA Baseboard Electric Heater 1S has an LCD touch screen which can be used to control the device. The heater can equally be controlled from anywhere deploying a XiaoAI Voice Assistant-powered device and also via the MIJIA app.