With Huawei's smartphone market share dropping, Xiaomi and OPPO came out as the beneficiaries in the third quarter of 2020 in Western Europe, as per IDC. The former has had a presence in these regions for a while now. But the latter has now begun to take advantage of Huawei's situation. In order to excel, OPPO has also been filing various patents in the past few months. One such new smartphone design patent with a 15x zoom camera has emerged.
Guangdong Oppo Mobile Telecommunications filed this new smartphone design patent in July 2020. It got approved and published last month on November 6. As usual, LetsGoDigital was the first to find it and the publication even teamed up with Concept Creator (Jermaine Smit) for 3D renders.
According to the patent documents, this OPPO smartphone design includes a curved display on the front with a centered punch-hole. In case you do not know, for some unknown reason, only Samsung has released OLED smartphones with centered punch-hole so far. 
But recently, Fujitsu Arrows NX9 F-52A became the first non-Samsung with such a display. However, this device will be limited to Japan and will only go on sale in late January. Hence, we think that this exclusivity has now ended and we may see more consumer-ready handsets as well as design patents with centered punch-hole OLED display in the future.
Coming back to the patent, the back of the handset houses a horizontally aligned triple camera setup. The original sketches do not have any text, but the 3D renders by Jermaine include '15X ZOOM' lettering below the LED flash since this phone supports up to 15x hybrid zoom, as per documents.
If this sounds similar, then you aren't alone. That's because OPPO filed a similar smartphone design patent but with a circular pop-up camera module instead of a punch-hole. In other words, the placement of the selfie camera is the only major difference between these two designs.1 of 3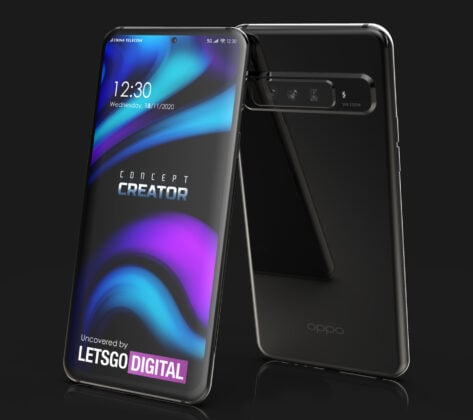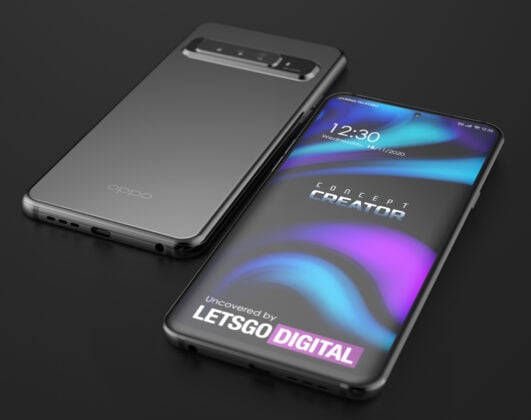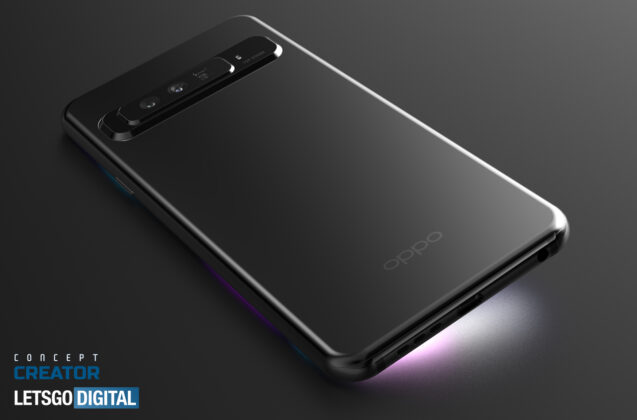 Last but not least, the handset has a power key on the right side, volume buttons on the left side, and a USB Type-C port at the bottom along with a speaker grille and a primary microphone. Concept Creator has included a 3.5mm headphone jack for fun, but do note that the original sketches do not have it.
Having said, unlike the design patent with a circular pop-up camera module, this one can be easily implemented without much complexity. Hence, OPPO can bring this design to the market if the company wants to.