Changan Master Motor has finally announced the date when it will reveal the price of Alsvin. According to the company's notification, the new Sedan's price will be disclosed on January 11, 2021.
It is pertinent to mention that the company unveiled the car on December 11, 2020. However, it didn't reveal the price, as CEO of the company stated, they would like to "keep a little bit of mystery".
Furthermore, earlier reports suggested that the company will announce the price in the first week of January; however, it didn't happen. 
Booking For Public:
In the same notification, Changan stated that it would open the booking of Alsvin for the public on January 14. Meanwhile, the company will start delivering cars in March, 2021. 
The notification further read that to ensure transparency and focus on retail customers; the company will take the following measures: 
One person can book only one vehicle (Alsvin) per month as per their CNIC data.
Pay Order/Demand Notice should be from customer's account whose PBO is being generated. 
Booking amount for Changan Alsvin will be Rs750,000. 
Lucky Draw:
The company has also conducted a lucky draw for its customers on January 7. The draw was held to announce 1000 lucky customers, who had pre-booked the vehicle on Changan's website. "As promised, they will be the very first customers to experience the Changan Alsvin," the notification read. These lucky customers will also get a 1-year free maintenance package.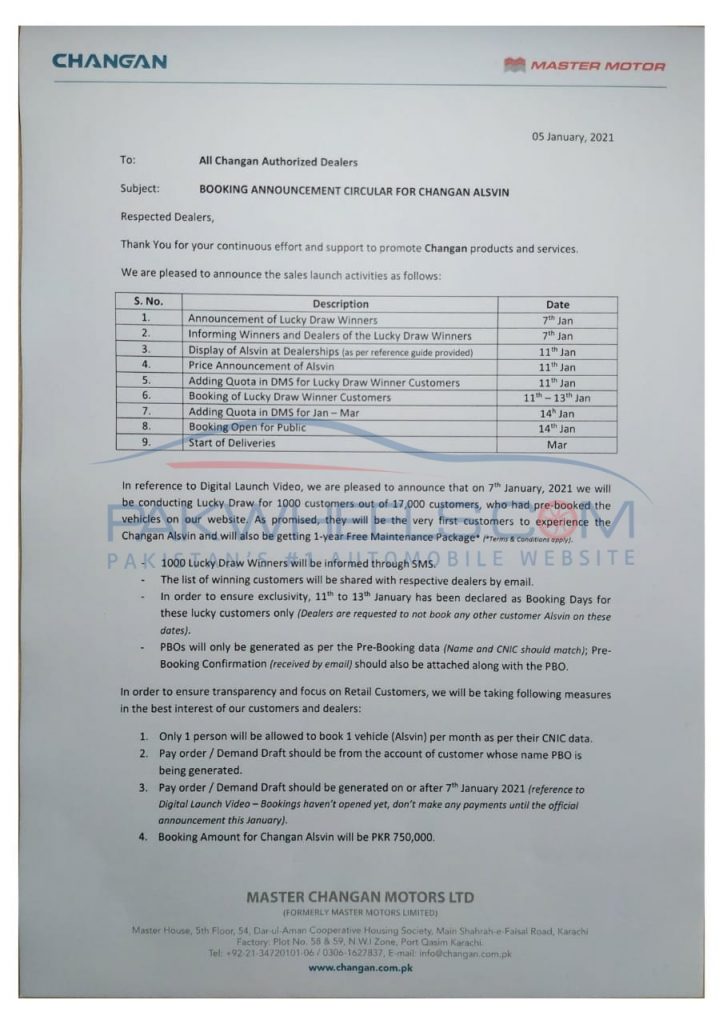 Salient Features of Changan Alsvin:
The car's salient features include Start-Stop Technology (SST), and Tire Pressure Monitoring System (TPMS). The first feature is great for fuel-saving as car switch itself off while sitting idle in traffic or a signal. The second one is perfect for the maintenance because it will remind you about the tire pressure.