Honor is reportedly gearing up to launch a new foldable handset later this year. The folding device will be a part of the company's Magic series of smartphones, as per a new report.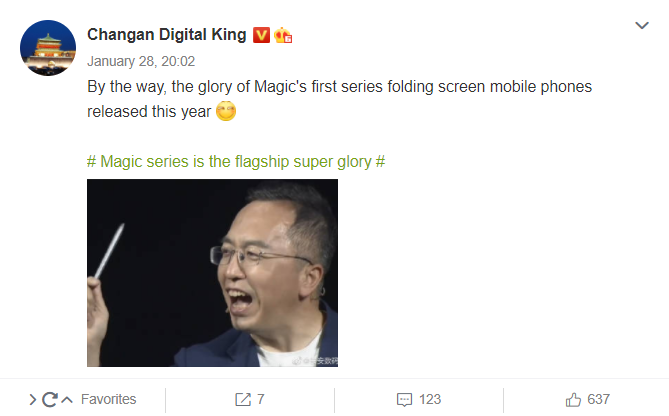 Earlier this week, known Weibo, a Chinese microblogging website, tipster @长安数码君 shared a new post online. In this, the leakster stated that the company is planning on launching a new foldable smartphone within the Magic lineup.
Reportedly, this device will be a premium grade flagship handset from the former Huawei sub brand. Previously, Zhao Ming, CEO of the company, had mentioned that the company will soon also launch flagship series like the 'Mate' and 'P' series from Huawei.
In other words, this smartphone could be one of the first ultra high end device from the known Chinese budget device maker. Notably, the company's former parent company already has a foldable lineup with its Mate X series, so the upcoming foldable phone might be a counterpart of it. The company recently launched its first flagship handset, the V40, recently, which is one of its first launch after parting with Huawei.
Unfortunately, finer details regarding this device is currently unknown at the moment. Furthermore, this is still an unconfirmed report and we will have to wait for an official Honor announcement to know for sure. In other words, take this report with a pinch of salt for now and stay tuned as we will be providing more updates when additional information is available regarding this matter.