Haier is making its mark all over the country and continues to grow with the love and support of its customers. After the success of the smart homes in Lahore and Rawalpindi, Haier is all ready to bring the same facility for its customers in Faisalabad. Haier Smart Home is opening on 8th June 2021 at Haryan wala chowk, Faisalabad.
If you are looking for a one-stop solution to a smart life then Haier Smart Home at Faisalabad is the place to visit. It will provide you appliances that are synced and interconnected with each other through the 'Haier Smart" operating system.
The Smart Kitchen will provide users with a one-stop kitchen solution for purchasing, storage, cooking, and cleaning. The Smart Living Room concept utilizes the Haier Smart Living platform along with advanced AI (artificial intelligence) technology to interconnect the AC, LED lights and other network appliances with a smart TV.
Similarly, The Smart Bedroom and Smart Laundry has the same smart concept and all that a person needs to do is press a button on the remote control.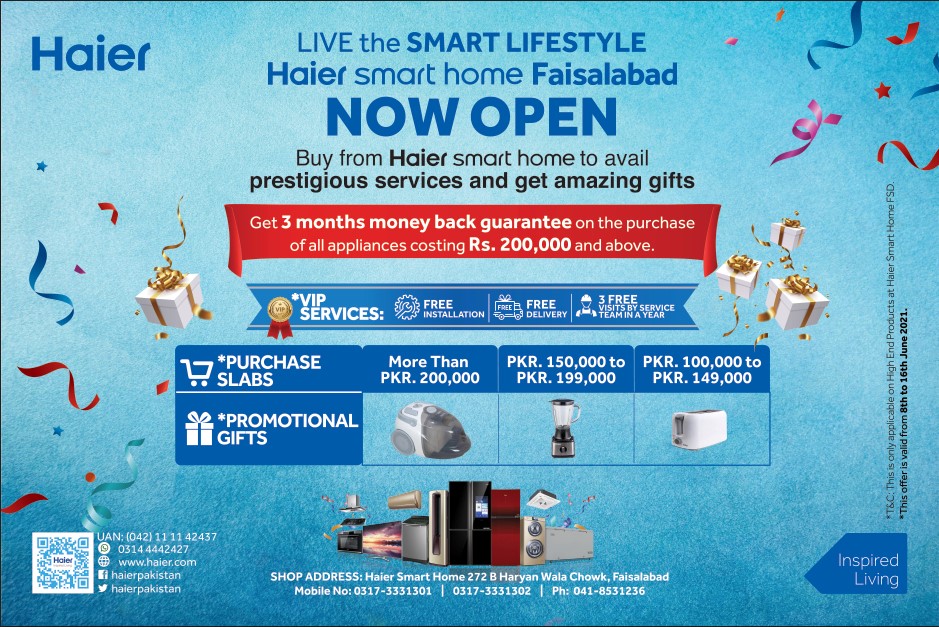 Haier Smart Home is offering some amazing services for its customers from 8th to 16th June 2021 which include free delivery, free installation of the products, and three free visits by the service team in a year. Not only this but buying from Haier smart home is giving everyone an opportunity to avail themselves of some exciting gifts on purchases above Rs.100,000 and many more. For more information keep connected to Haier's social media platforms for more upcoming discounts and promotions!
Haier has always worked with a mission to keep its customers satisfied and which is why it continues to lead the appliances market. Haier is the Global No1 appliances brand according to Euromonitor International Haier aims to develop innovative and smart appliances that users can communicate with through the internet, enabling multi-way communications between users and a suite of smart appliances to create an intelligent life experience. Haier strikes to build smart homes and communities, in order to rapidly create a smart living experience for consumers.
Live Smart & Buy Smart with Haier today!