Tax reductions for locally produced cars with engines up to 850cc have been announced by the government. The FED has been abolished, and the sales tax on these vehicles has been decreased to 12.5 percent from 17 percent, according to federal finance minister Shaukat Tarin.
As a result, the Suzuki Alto, United Bravo, and Prince Pearl will be less expensive. These cars' updated estimated prices are listed below.
Suzuki Alto:
The old price of Alto VX was Rs1,198,000, and now it will cost Rs1,124,000. Meanwhile, the previous rate of Alto VXR was Rs1,433,000, while its revised price is Rs1,345,000. Lastly, Alto VXL used to sold at Rs1,633,000, however, it will now cost Rs1,530,000.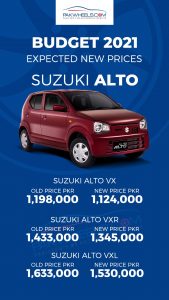 Price Pearl: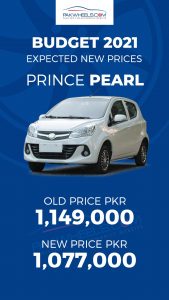 The old price of Prince Pearl was Rs1,149,000, however, it will now cost at Rs1,077,000.
United Bravo: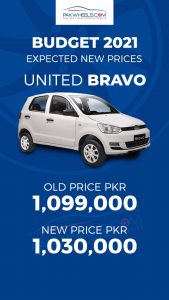 The previous price of United Bravo was Rs1,099,000, and the new rate will be Rs1,030,000.
This will surely make a significant impact on local car market because middle class mostly buy 850cc cars. The earlier reports suggested that the government will reduce the car prices in this budget.
However, it is not a norm in the history of car industry in Pakistan as we have never heard that the taxes have been reduced on locally manufactured cars. However, the government have slashed the taxed, resulting in price reduction up to Rs1,10,000.
It means that these vehicles will come in buying power of the consumers, meaning increase in car sales. Meanwhile, the government has not presented any tax relaxation for imported cars, although there were media reports about it. This step means that the government is focusing on local auto market and want the people to buy the local vehicles.
What are your take on this announcement? Do you think that this relief is good for common buyer? Share your thoughts in comments section.
Origin: Pakwheels.com