Earlier this week, OPPO revealed a bunch of new developments in its Flash charging technology at the OPPO Flash Charge Open Day. As charging solutions are reaching insane levels of power output, the focus is slowly shifting from sheer speed to safety and wider use case scenarios. At the event, the company revealed its progress in developing charging solutions for smartphones as well as other products.
Here are the key takeaways from the OPPO Flash Charge Open Day event.
1. Five-Fold Safety Protection System
OPPO explains how it uses a five-fold protection system to ensure its charging technology remains safe even at high levels of charging output.
The brand says that its Flash Charging tech employs five different safety measures, which include:
A new Fuse with lower Impedance
OPPO has incorporated a new fuse in its Flash Charging system which features lower impedance. The fuse will blow in case of abnormal electricity supply to the battery while bringing notable improvements in the efficiency and safety of the charging system as compared to its previous generation.
Efficient Gallium Nitride (GaN) Switches
OPPO's Flash Charging technology uses GaN switches (to manage the flow of electricity), replacing the usual MOSFET switches. This change brings in two major benefits,
in space as well as safety. One GaN switch can replace two series MOSFET switches, so it saves space. Further, thanks to GaN's lower impedance and the ability to resist higher voltages, it improves the overall charging efficiency while being reliable and safe.
Internal series bi-cell design
OPPO's latest Flash Charging technology relies on a new internal series bi-cell design. Essentially, two battery cells are placed inside one battery casing, separated by special molecular material. These battery cells operate independently while allowing voltage to be doubled within a smaller space than the previous series bi-cell battery design.
Battery Safety Detection Chip
The new Battery Safety Detection chip works with OPPO's AI algorithm to detect significant problems within the battery. It can also remove potentially false warnings and can accurately warn users if the battery has some serious issues.
Composite Current Collector
OPPO's Flash Charging technology uses a new battery that replaces the traditional aluminum anode with a special composite current collector. This composite collector is extremely malleable and significantly reduces the chances of a short circuit in case of external damage.
According to OPPO's internal tests, the new battery passes puncture and collision tests with a 100% success rate.
2. Flash Charging is now Smart
Flash charging is known for its fast charging output, but the latest version of this technology is smarter than before. This change brings a better balance between charging speed and battery life. The brand has finally managed to monitor battery conditions in real-time which allows it to adjust the charging power based on the requirement of the device.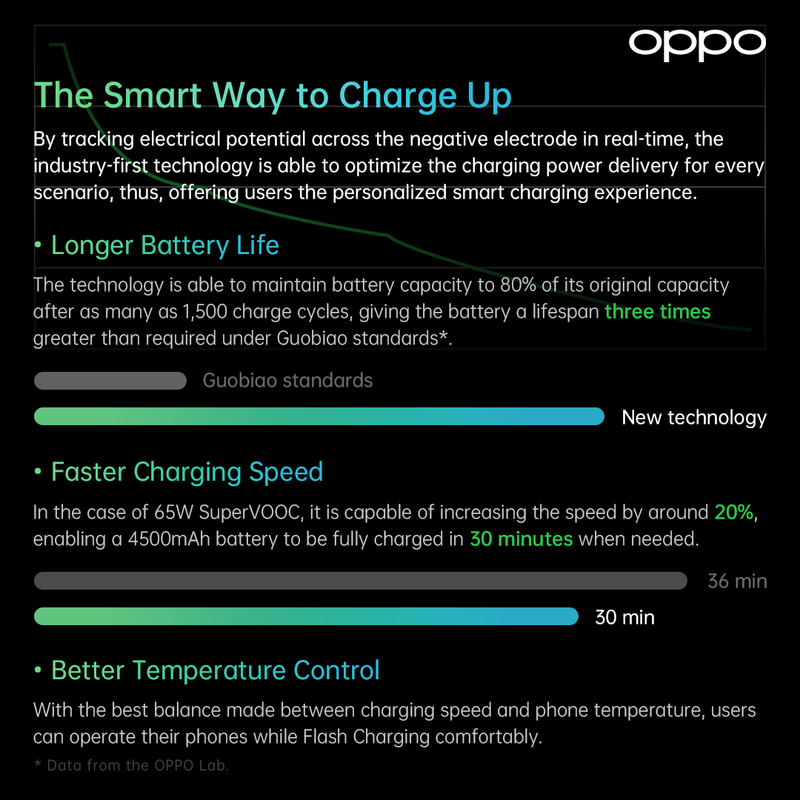 For example, if you are charging your device overnight, the Flash Charging technology will switch to 'relax mode', wherein it will slowly charge the phone over the course of the night to extend the battery life. OPPO says that while ensuring 65W SuperVOOC, this technology can help retain 80% of the battery's capacity even after 1500 charging cycles.
It can also work in the opposite use case scenario. Suppose you want to head out urgently, this Smart Charging system can speed up the charging output by up to 20%, reducing the time taken to charge a 4500mAh battery from 36 minutes to just 30 minutes.
Further, if you are charging the phone while using it, this same technology will ensure that the phone doesn't overheat, optimizing the balance between charging temperature and charging speed in real-time.
3. Extreme Charging Technology for Safe Charging in Freezing Situations
Lithium-ion batteries don't like extremely cold environments. But OPPO's flash charging technology aims to enable fast charging even in such extreme conditions by allowing the battery to generate its own heat.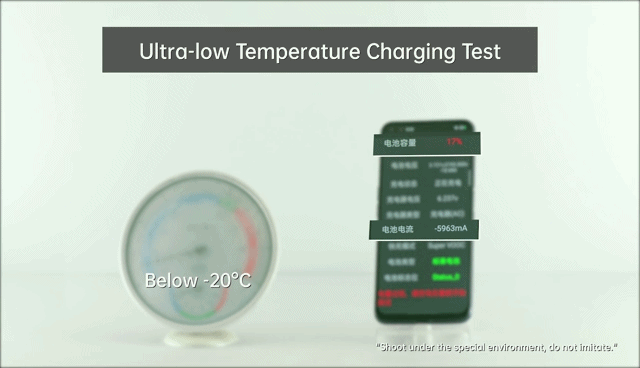 Even if the temperature is as low as -20°C, OPPO's Flash Charging tech employs a smart algorithm to let the battery generate its own heat, increasing its temperature from below zero to over 10°C in just 10-20 seconds. Once the battery reaches this temperature, it can charge normally.
4. OPPO announces The Flash Initiative – Brings VOOC to new products
It's been seven years since OPPO debuted its Flash Charging technology in the market. Now, the brand is looking to expand its super-fast charging technology to new categories. In this regard, it has launched a new project, The Flash Initiative wherein it will bring its VOOC charging technology to categories like automobiles, and public spaces, through patent licensing. This will allow other manufacturers to use OPPO's Flash Charging technology in their own products in the future.