WhatsApp will soon let users change their profile photo privacy settings to hide photos from specific users. Here's how to hide your WhatsApp profile photo when feature gets released.
WhatsApp has, however, been working on privacy-enhancing features as well, such as the addition of the ability to hide certain parts of your profile from contacts. A new leak has provided a first look at the feature that allows you to hide your WhatsApp profile photo from certain contacts – it is currently under development.
It is now common knowledge that WhatsApp is bringing new privacy settings that will allow users to hide their Last Seen, Profile Picture and About from certain contacts. This will allow them to show these parts of the profile to their contacts, while excluding a list of people who will not be able to see these sections. After Last Seen, the setting for Profile Photo has now shown up in a new leak on WhatsApp beta for Android version 2.21.21.2, thanks to feature leaker WABetaInfo.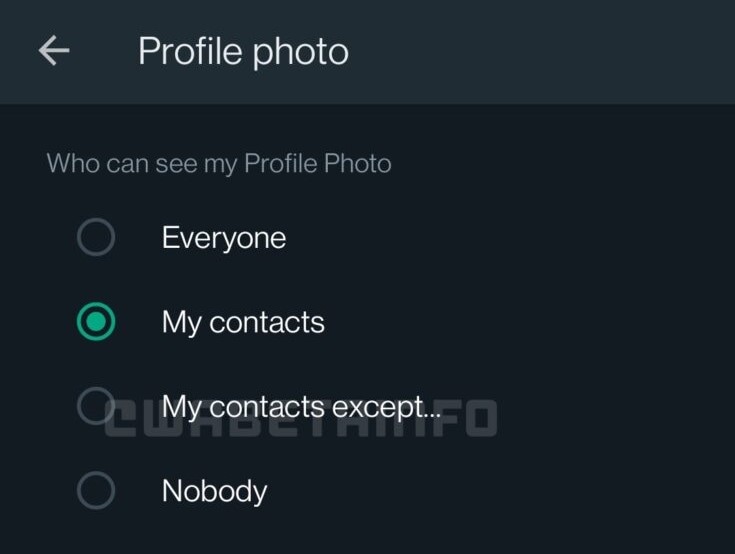 The setting is still in development, so users won't see it even if they are on the latest beta. However, WABetaInfo was able to spot the new setting in the app that shows users four options – Everyone, My contacts, Nobody, and the new "My contacts except.." setting that will allow users to select specific contacts in the app.
These users will not be able to see the profile photo. The leaker has previously specified that using this setting for Last Seen and About will mean that a user will not be able to see the other contact's Last Seen and About, but it is currently unknown whether this will be the case for the Profile Photo as well. The feature is expected to roll out to users in a future version of the app, first to the beta testers and then to all other users once WhatsApp has completed the development of the feature.