Huawei held a product launch event today, unveiling a slew of new devices, with the P50 Pocket and Watch D taking center stage. We'll be discussing the latter here, and we've to include everything you need to know about the smartwatch below.
To begin with, the Huawei Watch D is made of a custom-made high-hardness aviation aluminum that has improved durability and scratch resistance. The display is squarish with a 1.64-inch diagonal and an HD resolution that provides 326 PPI retina-level clarity. The weight is said to be one-sixth that of a traditional blood pressure monitor.
According to Huawei, rigorous airtightness testing has given the Huawei Watch D IP68 water and dust resistance, making it the industry's first watch with blood pressure tracking support to have such a rating. An eight-channel high-sensitivity optical system will sense heart rate, and support for more than 70 sports modes has been included.

However, the blood pressure monitoring function is unquestionably the smartwatch's main selling point. A micropump the size of a dime with a compression capability of 40kPa has been installed inside, allowing for accurate blood pressure measurements ranging from 40mmHg to 230mmHg.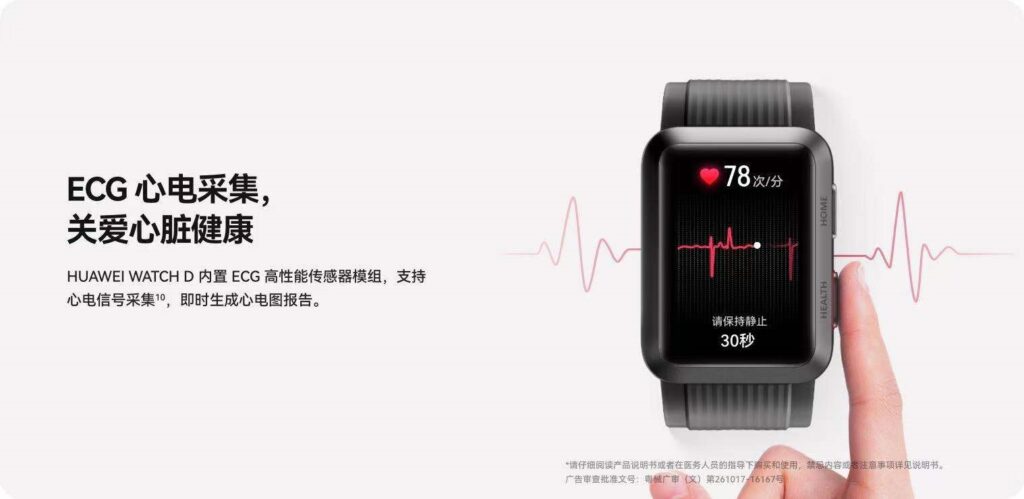 To enhance the watch's detection capabilities, a self-developed hybrid measurement algorithm that makes use of powerful AI computing was also used. The BP monitoring function was said to meet pharmaceutical industry standards with an extremely small margin for measurement error.

Blood pressure monitoring has been combined with ECG measurement, which is essentially a test to check the rhythm and electrical activity of your heart. According to Huawei, 6 BP and 5 ECG measurements per day will still provide you with up to 7 days of battery life. Recharging the watch is simple thanks to a wireless charging function.

Last but not least, Huawei provides professional doctor services covering diet, sleep, and exercise, allowing you to directly share your health data with doctors, who will then provide a health management plan based on that data. It's possible that this service will only be available in China.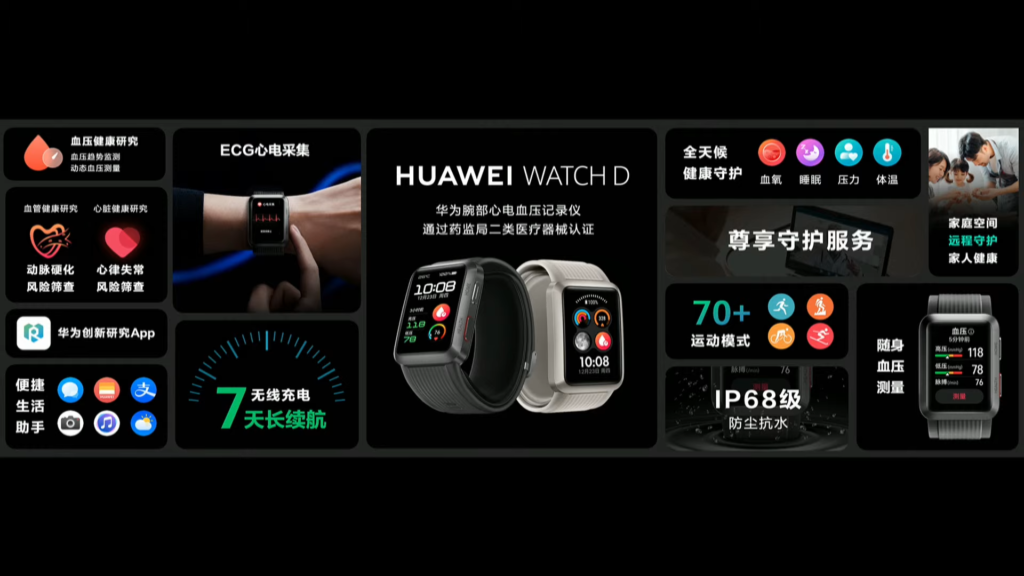 The Huawei Watch D comes in Classic Black and Elegant Titanium colors and costs 2,988 Yuan (approximately $469). It will be available for purchase beginning at Christmas (December 25th).