Imran Khan, the cricket legend turned politician, was deposed as Pakistan's prime minister early on Sunday after losing a no-confidence vote in the National Assembly, bringing to an end a weeks-long campaign by a joint opposition to depose him over allegations of poor governance and economic mismanagement.
Elected in 2018, the cricketer-turned-politician was widely expected to defy the odds and become Pakistan's first prime minister to serve a full five-year term.
However, after two of Khan's coalition partners abandoned him last week, the opposition finally had the votes needed to remove him from office.
The following is a timeline of significant events in his political career:
1996: Pakistan Tehreek-e-Insaf
Khan rose to national prominence after leading Pakistan to a Cricket World Cup victory in 1992. He then retired from cricket and entered politics, becoming an outspoken critic of government corruption.

In 1996, Khan established his own political party, Pakistan Tehreek-e-Insaf (PTI). One year later, in national elections, the PTI received less than 1% of the vote and did not win any seats in parliament. In the 2002 elections, it fared slightly better, winning a single seat, which Khan filled.

Khan was among a group of politicians who resigned from the National Assembly in 2007 in protest of General Pervez Musharraf's candidacy in the upcoming presidential election. When Musharraf declared a state of emergency, Khan was briefly imprisoned as part of a crackdown on Musharraf's detractors. To protest Musharraf's rule, the PTI boycotted national elections in 2008.
Only a decade later did Khan's party make a significant entry into parliament, gaining traction, particularly among the younger generation. Khan maintained his criticism of corruption and economic inequality, and he held protests demanding that the United States cease firing missiles into Pakistan's northwest during its military campaign in Afghanistan.
2013: Opposition Leader
In the 2013 general election, the PTI emerged as a serious player, becoming the second-largest party by popular vote, despite winning less than half of the seats won by the Pakistan Muslim League–Nawaz (PML-N), led by Nawaz Sharif. It also established the provincial government in its Khyber Pakhtunkhwa province in the northwestern part of the country.

In 2014, Khan accused the PML-N of vote-rigging and led mass protests to force Sharif to resign. The Supreme Court agreed to open an investigation in 2016, effectively disqualifying Sharif from holding public office in 2017.
Khan ran for office the following year on a platform of fighting corruption and poverty.
2018: Premiership
With the promise of ushering in a new generation of clean politicians and lifting millions out of poverty, Khan was viewed as a change agent by voters disillusioned with the old political order, and his party clean to election victory in July 2018.
However, he was widely regarded as a candidate whose rise to power was aided by the tacit support of Pakistan's powerful military, despite the fact that both the army and the PTI denied any collusion.

The PTI won a majority of seats in the National Assembly, allowing Khan to form a coalition with independent lawmakers. On August 18, 2018, he was sworn in as Prime Minister.
2020: Joint opposition against Khan
In late 2020, the major opposition parties formed the People's Democratic Movement (PDM), with the stated goal of increasing civilian government independence from the military establishment. During protests and rallies, PDM members accused Khan of being an army puppet, mismanaging the economy, and calling for his resignation.
2021: Drift with Military
Khan had a falling out with the military establishment in late 2021 after a failed attempt to influence top positions.
2022: No-confidence Motion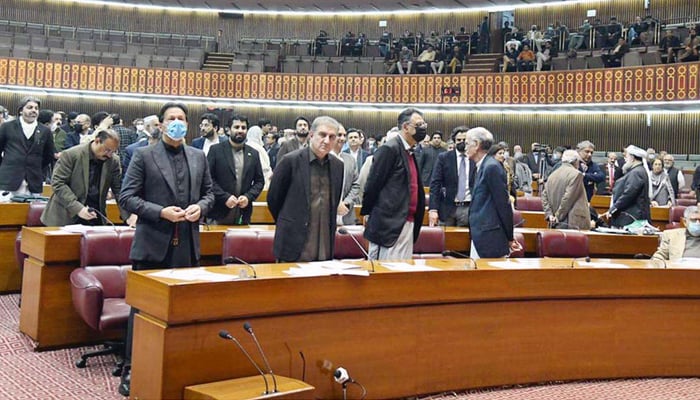 As public dissatisfaction with the country's high inflation grew, the opposition introduced a no-confidence motion against Khan in March.
Khan's removal would almost certainly result in more instability in the nuclear-armed South Asian country of 220 million people, which is grappling with double-digit inflation and depleting foreign reserves.