Pak Suzuki has discontinued the Suzuki GS 150 SE, which is not a very shocking decision (Special Edition). The bike will no longer be sold starting on July 16, 2022, according to a notice from the firm. The business said that it would not take any further orders.
The GS 150 (regular version) would still be made and sold. It is important to note that there have been whispers regarding its discontinuance for a few weeks. According to sources, there are a variety of potential causes behind this.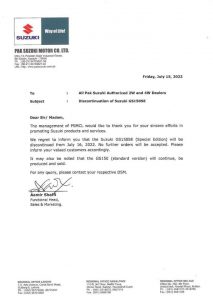 Possible Reasons
The first possible reason is the serious issues with importing the Completely Knocked Down (CKD) kits. The State Bank of Pakistan is not issuing the LCs for the import of CKD kits, which is the main cause of delays in production and delivery.
Furthermore, the high freight charges, increasing petrol prices, and depreciation of the rupee against the US dollar are other probable reasons.
Meanwhile, the sales of the Suzuki GS 150SE are not that high, and the situation for the Special Edition was even worse. And this could be the second major reason behind this decision.
Also, the GS 150 has been discontinued internationally for almost 8 years, meaning the bike is living an extra life in Pakistan. And last but not least, the current price of the GS 150 bike is Rs. 232,000, while the rate of the Special Edition was Rs. 249,000, which is quite high, especially at this time of high inflation.
According to the PAMA data, the firm sold 3,268 motorcycles in June 2022 compared to 3,580 units in May 2022, increasing total sales for the company. Even so, it had to stop running in order to prepare for the Special Edition.
Do you agree with Pak Suzuki's decision to stop selling the Suzuki GS 150 SE? Do you believe that that was the right choice? Please post your comments in the space below.