As you are all aware, Kia automobile prices increased significantly yesterday; you can read about the new prices here.
ALSO READ:
The booking status of each of Kia Lucky Motors' models and their variations was disclosed in the same circular. According to the notification, all models and variants have open bookings with the exception of three.
Bookings on Hold
The following car reservations are pending:
Kia Picanto Automatic (A/T)
Sportage Front Wheel Drive (FWD)
Sportage All Wheel Drive (AWD)
The remaining Kia offers can be reserved in the meantime. All vehicles, with the exception of the Kia Carnival GLS, are available for full payment booking. Visit the Kia store in your area to reserve the vehicle of your choosing.
Here is a comprehensive update on Kia automobile reservations.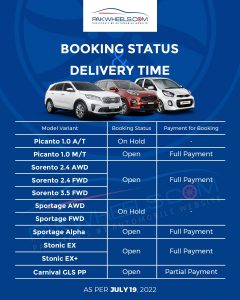 It is important to note that beginning in April 2022, the firm stopped accepting reservations for all models of the Kia Picanto, Sportage, and Stonic.