Hyundai Nishat has launched an offer in which you will receive your reserved vehicle within one month. Isn't it great that if you book a Hyundai car today, you'll have it by next month? The important thing to remember is that this is a limited-time offer.
ALSO READ:
According to a Hyundai social media post, "Say yes to your dream car and say no to waiting!" "Order your new Hyundai today and it will be delivered within a month." So, stop by your local Hyundai dealership to take advantage of this limited-time offer.
This is fantastic news because almost all locally assembled vehicles have been delayed. The majority of the cars took 6–8 months to arrive. You will receive the car within a month under this offer, which seems quite unbelievable given the current state of the local market.
Meanwhile, the normal delivery time for Hyundai vehicles is 3-4 months, so this is a good deal for Hyundai customers. Meanwhile, Hyundai announced a price reduction for its commercial pickup van, the Porter H-100.
ALSO READ:
According to the company's notification, after the incumbent government removed the application of Capital Value Tax (CVT) on commercial vehicles, we decided to pass the savings on to consumers.
New Prices For Hyundai 2022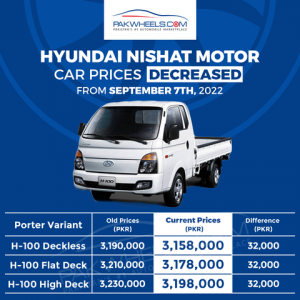 We hope that other automakers will follow suit and reduce vehicle delivery times. This will increase customer trust while also trying to aid in the fight against "ON Money."
What are your thoughts on this limited-time offer? Will you take advantage of it? Feel free to give your feedback in the comments section.